MANAGING DIRECTOR, PRINCIPAL AT GENSLER LOS ANGELES
Barbara is Co-Managing Director, Principal of Gensler Los Angeles and has been a global influencer for human wellbeing through design excellence. Gensler is widely recognized as the world's leading design firm, with nearly 6,000 professionals networked across 48 offices in the Americas, Asia, Europe, Latin America and the Middle East. Through her collaborative leadership style, Barbara brings strategic design management to highly innovative clients such as Netflix, JPL/NASA, Amgen and the City of Hope.
As a Fellow of the American Institute of Architects and member of the AIA California Board of Directors, Barbara is the 2019 AIA Los Angeles Chapter President. Barbara was recognized by the Los Angeles Business Journal as the Executive of the Year: Women Making a Difference, and Real Estate Forum magazine as a Woman of Influence: California. Active in the community, Barbara is on the Board of Directors of Imagine LA, a leading not-for-profit dedicated to mobilizing the community to end the cycle of homelessness and poverty. She was an honoree for Girls Inc and is active with Dress for Success, National Organization of Minority Architects and Women Presidents' Organization. Sought after for her expertise on health and wellbeing in the built environment, Barbara was featured on the internationally televised National Geographic Channel documentary, "Origins: The Journey of Humankind – Building the Future." She was also highlighted in California Sunday Magazine for the December 2018 issue on "Home."
Barbara holds a Bachelor of Architecture degree from California State Polytechnic University, Pomona and studied in the Graduate Diploma Program at the Architectural Association in London. Barbara's work has been published nationally and internationally.
ENGINEERING VISIONARY & DREAMER
Steve Burrows CBE is Principal Consultant at Cameron MacAllister where he advises AEC firms about the impact of change in the construction industry driven by technology and manufacturing. He was an Executive at Katerra building and leading the engineering practice for the Silicon Valley technology company seeking to disrupt the construction industry and he retains a position as consultant to the CEO.
Steve was born in UK and has worked in Europe, Asia and the US on projects such as the Birdsnest Stadium, the new Apple Campus and Stanford's Graduate School of Business. He is always seeking to innovate. Steve was made a Commander of the Order of the British Empire by Her Majesty the Queen in 2009 and received an Honorary Fellowships from his alma mater Liverpool John Moores University in 2018. He is adamant that this is the greatest time in history to be in the AEC industry and he presents TV shows such as Time Scanners, Engineering the Impossible and recently Dream Big, a 3d IMAX movie narrated by Jeff Bridges, as a way to broadcast this.
Steve is passionate about architecture and its potential in a digital future and has served on the Board of AIA San Francisco.
Grace is an architect and co-founder of Schemata Workshop, a minority and woman owned architectural practice in Seattle with a keen focus on building community and social equity. She brings innovative ideas to her projects that merge client goals and sustainability measures – such as cohousing, urban agriculture, and modular construction.
In a profession mired in the context of structural and institutional racism, Grace has been elevating the conversation about racial equity through her work with the Seattle Planning Commission, Housing Development Consortium and in the Planning work of the firm.
As President of Schemata Workshop, she has created a culture of mentorship, professional service, and social equity with a strong ethos for life/work balance. She believes a company can be financially successful while compensating well, providing great employee benefits, and generously participating in the philanthropic community.
EQUILIBRIUM CONSULTING, INC.
Eric began his consulting career in 1987 in Ottawa with the firm of Adjeleian Allen Rubeli Ltd, designers of the Toronto Skydome. During his time with AAR, Eric was involved in the design of high-rises and various commercial and institutional buildings such as the New Ottawa City Hall with renowned architect Moshe Safdie.
In 1998, Eric co-founded Equilibrium Consulting Inc., and is co-author of the widely publicized "Case for Tall Wood" report with Vancouver Architect Michael Green, featured by the Economist, CNN, National Geographic and many other international publications, and adopted as mandatory reading by a number of architecture schools in North America, including Yale's School of Architecture.
Eric has been a guest lecturer at John Hopkins University and regularly writes for trade magazines while presenting at conferences around the world.
LANDSCAPE ARCHITECTURE
UNIVERSITY OF WASHINGTON
Jeff's work focuses on community design, civic engagement, and democracy and public space, with an emphasis on engaging marginalized social groups in planning, design, and placemaking. In a career that spans the Pacific, he has worked with indigenous tribes, farmers, and fishers in Taiwan, neighborhood residents in Japan, villagers in China, and inner-city immigrant youths and elders in North American cities. Hou is recognized for his pioneering writings on guerrilla urbanism and bottom-up placemaking, with collaborative publications including Insurgent Public Space: Guerrilla Urbanism and the Remaking of Contemporary Cities (2010), Transcultural Cities: Border-Crossing and Placemaking (2013), and Design as Democracy: Techniques for Collective Creativity (2017).
Civilization is a design practice that builds identity systems, digital experiences, printed materials, environmental graphics and exhibitions that are engaging, empathetic, sustainable and create meaningful connections. They work on a variety of projects for public, private and non–profit clients that share their commitment to creating positive change and promoting greater insights about our world. Civilization is a recipient of the National Design Award for Communication Design from the Cooper Hewitt, Smithsonian Design Museum in honor of "excellence, innovation, and enhancement on the quality of daily life." Their internationally recognized work is included in the permanent collection of SFMOMA and the Milton Glaser Design Archives at SVA, has won numerous awards including a Webby Award for Best Activist Website, and is regularly featured in print publications as well as most major global media outlets such as The Guardian, The New York Times, The Huffington Post and NPR. Their founding members lead workshops and lecture globally.
Alan Tse was born in Hong Kong, China in 1980. He received his Bachelor of Arts in Architecture from the University of California, Berkeley in 2003. After joining Stanley Saitowitz | Natoma Architects Inc. in 2003, he has launched a series of award-winning commercial projects in the Bay Area. He furthered his education in Architecture through the M. Arch program at University of California, Berkeley after receiving the departmental scholarship, and has earned the M. Arch degree in 2009. He taught at both University of California, Berkeley and California College of the Arts undergraduate design studios on building design and interior design. He co-founded TC Studio in 2011 as the Design Principal, a San Francisco based design practice specializing in custom residential design, interior renovations, restaurant design, bar + lounges, and various hospitality projects. From 2015, Alan Tse Design was formed to provide design directions and consultations for developers for projects ranging from 2 to 60 units mid size condominium developments. He lead and built an in house design team to manage more than six projects in the portfolio including wood frame, concrete, and high rise construction along side Director of Development and Managing Partners.
URBAN LEAGUE OF PORTLAND, CEO & PRESIDENT
For more than three years, Nkenge Harmon Johnson has led the Urban League of Portland. CEO Harmon Johnson is passionate about empowering people to live the lives that they choose for themselves. Under her leadership, the social-profit company has tripled its annual revenue, and doubled the number of staff available to serve the community.
Her work is at the forefront of advocacy and implementation on the issue of economic justice, including affordable housing, living wage jobs, K-20 education, the environment and clean energy, malicious summoning (also known as "living while Black" issues), criminal justice, and cannabis reform. CEO Harmon Johnson's team operates from four different offices, including a first in East Portland, opened during her tenure. She brings to the Movement deep experience in global economic policy, public affairs, crisis management, and advocacy. On any given day, you will find her standing up to bullies and rejecting the status quo.
CEO Harmon Johnson was recently elected Regional Vice President to represent colleagues of the ten Urban League affiliates across the Great West. She continues as Co-Chair of the National Urban League Housing and Financial Stability Taskforce. Her service also includes volunteering as a Board Trustee for the Catlin Gabel School, her alma mater.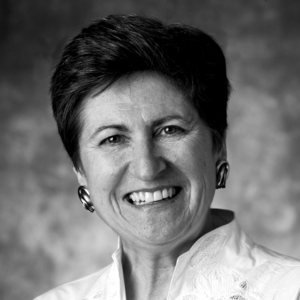 PORTLAND STATE UNIVERSITY
Barbara is a Professor of Architecture at Portland State University teaching design studios, building technology, and designing for wellness. Her research is on the integration of the profession and the academy. She was AIA Portland's first woman president, served twelve years on the Oregon Board of Architect Examiners, on several NCARB committees impacting licensure and on twelve NAAB accreditation visits. She currently leads PSU's participation in AIA's Design and Health Research Consortium and is on the NAAB Board of Directors. Before joining PSU, Barbara worked in architectural offices in Seattle and Portland on multi-family housing, commercial and industrial projects. Barbara holds a BA in Architecture from the University of Pennsylvania and a M.Arch from the University of Washington. In 2017 she was awarded the AIA Northwest and Pacific Region Medal of Honor.
SENIOR FELLOW, PORTLAND STATE UNIVERSITY CENTER FOR PUBLIC SERVICE
Tony is a citizen researcher. A social scientist, he "retired" after 30 years in the tech industry where he established social science and ethnographic practice with Intel Corporation. Currently, he's working to characterize and catalyze long-term system transformation to resolve homelessness in Portland, Oregon. He's a Senior Fellow with Portland State University's Center for Public Service and a Research Fellow with Portland Meet Portland, a local non-profit welcoming immigrants and refugees into Portland, providing citizenship training, and engaging Portland residents to build cross-cultural friendship, understanding and trust. He has a PhD from Tufts University and a BA from Franklin & Marshall College.
HENNEBERY EDDY ARCHITECTS
AIA NW & PAC. REGION FIRM AWARD, 2018
Established in 1992, Hennebery Eddy Architects has flourished on the foundation cast by founding Principals Timothy R. Eddy and the late Stephen J. Hennebery, who sought to create a collaborative architecture firm of designers who share a passion for architecture and interior design and possess an interminable work ethic and an entrepreneurial spirit. Firm leadership has expanded to include Principals Alan Osborne, David Wark, Michelle Vo, and Debbie Rogers. The 2018 Firm Award from the American Institute of Architects Northwest and Pacific Region (AIA NW+PR) recognizes excellence in design, practice and contributions to the profession, a commitment to community engagement, and the creation of a culture and exceptional work environment to foster these achievements.
Joseph Gallivan has been a reporter since 1990. He has covered music for the London Independent, Technology for the New York Post, and arts and culture for the Portland Tribune, where he is currently the Business Reporter. He is the host of Art Focus on KBOO radio and the author of two novels, "Oi, Ref!" and "England All Over" which are available on Amazon.com
MODERATOR / TECHNICAL MANAGER, OHCS MULTIFAMILY ENERGY PROGRAM
Mekha Abraham is the Technical Manager for the Oregon Multifamily Energy Program, which her firm, TRC, implements on behalf of Oregon Housing and Community Services - promoting and facilitating energy-efficient design in affordable multifamily housing. Mekha has a background in architecture, building science, energy efficiency, and advanced building systems. She holds a Bachelor of Architecture degree from Carnegie Mellon University. In her role as Technical Manager, she oversees program design, project support and design assistance, technical reviews, trainings, and stakeholder engagement.